Spring 2021 Joint Elections
March 2nd 2021 – March 4th 2021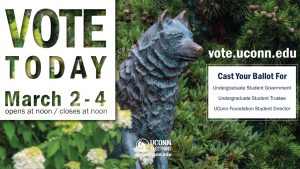 Election Results
Undergraduate Student Trustee (STEC)

(All UConn Campuses)

Noah Frank

UConn Foundation Student Director

(All UConn Campuses)

 

Maggie Khuu

Avery Point Associated Student Government 

(President) Julia Horlitz

(Comedy Chair) Solaiman Chowdhury

Stamford Student Government Association

(President) Chinedu Nkwo

(Vice President) Sabrina Uva

(Chief Financial Officer) Alyssa Pelletier

Storrs Undergraduate Student Government

(Storrs USG President and Vice President)

Mason Holland & Ethan Werstler

(Storrs USG Comptroller)

Christopher Bergen

(Storrs USG Chief Diversity Officer)

B Diaz

(ACES Senator)

Carter Newman

(CANHR Senator)

Teresa Nguyen

Kirsten Zwally

(Business Senator)

Yuhan Liu

(Education Senator)

Emily Gunzburg

(Engineering Senator)

Marianella Salinas

Aayush Chopra

Conor Broderick

Jacob Zakrzewicz

Jnanasravanthi Athina

Likhitadevi Athina

(Fine Arts Senator)

Kazi Iqbal

(CLAS Senator)

Nicola Bacon

Irene Soteriou

Autumn Michels

Pavan Adapta

Aryan Naik

Julia Mazur

Anthanasios Montemarano

Braden Migneault

John Powell

Michael Hernández

(Pharmacy Senator)

Jordan Bernard (Write In)

(Multicultural and Diversity Senator)

Damani Douglas

Winta Luel Mekonnen

Josianne Hamilton

Isabella Warren

Neha Kataria

Daniel White

Aanya Mehta
What's On Your Ballot?
Visit this page to learn more about each ballot initiative. All candidates that are running for office across all campuses, in addition to Student Activity Fee and Constitution Referenda descriptions, are listed here.
Please contact voteatuconn@uconn.edu if you have questions about a ballot initiative.
To learn more about voting through the UConntact System, visit the 'How to Vote' page.
Run for Office: Academic Year 2020-2021
The Run for Office period has closed.
ORGANIZATION
BALLOT INITIATIVES
Student Trustee Election Committee (STEC)

Note: The Student Trustee Election Committee has closed to the Run for Office Period. No more Intent to Run Forms will be accepted.

Undergraduate Student Trustee

Student Trustee Election Packet

Part One of Application (Due February 5th): click here

Part Two of Application (Due February 12th): click here 

UConn Foundation

Note: The UConn Foundation Election Committee has closed to the Run for Office Period. No more Intent to Run Forms will be accepted.

Storrs Undergraduate Student Government

Note: The Storrs Undergraduate Student Government Intent to Run Deadline has passed.

Student Body President & Vice President
Comptroller
Chief Diversity Officer
Multiple Senator Positions

Intent to Run (Due February 10th): click here

Petition by Peers, Budgets, and Campaign Rosters (Due February 17th)

Avery Point Associated Student Government

President
Secretary/ Treasurer
Special Events Chair
Comedy Chair
Music Chair
Public Relations Chair
Student Relations Chair

Hartford Undergraduate Student Government

Note: The Hartford Undergraduate Student Government Intent to Run Deadline has passed.

President
Vice President
Multiple Senator Positions

Intent to Run (Due February 10th): click here

Stamford Student Government Association

President
Vice President
Chief Financial Officer
Chief Administrative Officer