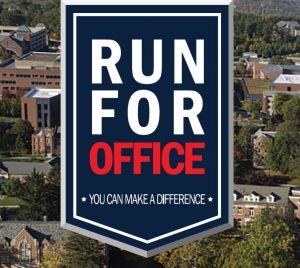 Run for Office 2019-2020
This spring, there will be campus-wide elections for a variety of high level student leadership positions. The following positions on each campus are open for interested candidates.
Those positions requiring an 'intent to run form' are noted with an asterisk (*) and the packet of information can be found below. Forms are due to each respective organization by noon on February 8th, 2019  unless otherwise noted.
The election will be held March 5th at noon to March 7th at noon.
All Campuses:
Storrs Campus:
For USG Positions, please note the updated finance limits and signature requirements:
Finance:
$200 for Comptroller
$400 for Pres/VP tickets
Signatures:
50 for Senate seats
100 for Comptroller
100 for Pres/VP tickets
Avery Point Campus:
ASG President
ASG Secretary/Treasurer
ASG Comedy Chair
ASG Music Chair
ASG Special Events Chair
ASG Public Relations Chair
ASG Student Relations Chair
Hartford Campus:
Stamford Campus:
Student Government Association President
Student Government Association Vice President
Student Government Association Chief Financial Officer
Student Government Association Chief Administrative Officer